Spreading Kindness And Compassion For All Animals

Akron Aeros/Happy Trails Game Day June 23rd
Happy Trails grant write, Laura Lindauer, also a professional opera singer, will be singing the National Anthem on behalf of Happy Trails. And Pete Lillo, our board president, will be throwing out the first pitch. Ask him about the no-hitter he pitched back in the 50's when he played for the Cubs….
Happy Trails reps will be on board as well! You will have the opportunity to buy a Happy Trails T-shirt and sponsor an animal right then and there. Don't miss your chance to meet Natasha and Odessa, our resident goats, as well as Kachina the mini horse in "person". Buy your tickets early!

2013 Sanctuary Appeal
Allow us to share moving, heart-warming, milestones which illustrate why we need your help.

Attention Businesses: Sponsor A "Horse Cave"
Yearly sponsorships of the recovery stalls for the rescued horses are now available.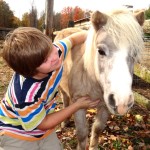 2013 Tour Season Begins in May
Schedule early — limited tour times are available. Here's what to expect on your tour!
About Us
Who we are

Happy Trails Farm Animal Sanctuary, Inc is a non-profit organization that rescues, rehabilitates, and provides an adoption program for abused, abandoned, and neglected farm animals such as horses, ponies, pot-belly pigs, farm pigs, chickens, ducks, turkeys, sheep, goats and cattle.

Success Stories
Being their Voice

Over the past 13 years, Happy Trails has rescued over 3,000 farm animals and horses. We work in cooperation with law enforcement and encourage prosecution of animal abusers. Here are just a few of those rescue stories...

Get Involved
Make a difference

There are many ways to get involved with Happy Trails. Are you able to adopt one of our many resuced animals? Maybe you have no room but can sponsor an animal living at the sanctuary. We have a continued need for volunteers and you can also make a monetary donation or donate other items essential the rescued animals. Submit your name and email for more information or to be added to our email updates or newletter mailings.